Angus Burgers and Shakes is a local restaurant. When we say "local" we mean that "Angus" is owned and operated by Kearney Nebraska residents Dale and Shawna Klute who have been part of the Kearney community for years. Their kids went to school in Kearney, their youngest son played baseball for the UNK Lopers and is now an integral member of Angus Burgers and Shakes management team. The employees who work for Angus Burgers and Shakes all make their homes in the Kearney area. Angus Burgers and Shakes embodies the same approach that our family takes to life; do your best, do what's right, and treat other people the way you want to be treated. The vision for Angus Burgers and Shakes was to create a nice, but casual, place to have a great burger, or a variety of other menu items, including gourmet milk shakes that you just can't get anywhere else … and for not much more money than you might spend at a run of the mill fast food chain restaurant. 
Beef that our family raises near Holdrege Nebraska makes up the core of our menu. And while burgers are the heart & soul of the menu, we also have our outstanding Nebraska Star Beef steaks on hand daily. We generally rotate the different cuts weekly, but if you're in the mood for a steak, just ask your waitress and get ready for a treat. We also work with other local producers of pork and chicken to round out the menu.  We have a genuine passion for keeping things as local as possible.
The "Shakes" part of the name … what makes our milk shakes special?? Well, our team does. Every single shake is made special, just for the person who orders it. We don't have a "milk shake machine" in the back that dispenses some pre-made concoction. We make them ourselves, by hand, every time. We go to great lengths to come up with unique and delicious flavors that will tempt your tastebuds no matter what sounds good at the time. We do everything we can to make sure you can't find a better milkshake between Chicago and Denver.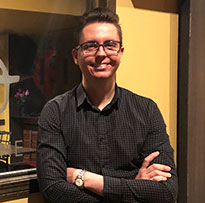 Liam Mendoza
Operations Manager – Angus Kearney
Originally from Spain, Liam Mendoza has been working in the restaurant industry since the age of 12 years old. He went to college for a degree in Hospitality, which he followed up with a Master's in Hotel Management and a Master's in Director of Operations. He is also a certified Wine Critic. He started managing his first restaurant at 17, slid into the hotel industry at the age of 19, and by 20 he was running a Michelin Star restaurant in Malaga, Spain – one of the youngest people in Europe to ever do so. After two years, he followed his friend and mentor to Mallorca (a Spanish island) and worked as an Outlet Manager, the captain of hospitality company staff.
Eventually, he and his mentor left to create a new chain of hotels for private investors where Liam worked as the Director of Operations and lead a team of close to 150 staff members. He found his way to Sozo by following his wife back to her hometown of Kearney, Nebraska. Since he moved here, he feels that his biggest accomplishment is how he has been able to adapt to the Midwest – the people, the culture, the food, and of course the weather.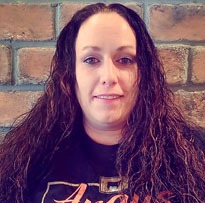 Melissa Buhrow
General Manager – Angus Kearney
All of the beef used comes from one source:
Nebraska Star Beef
Click the button below to fill out our contact
form or call us at one of our locations.
(308) 455-6218