Angus Burgers and Shakes is a local restaurant. When we say "local" we mean that it's owned by people who live here in Kearney. Folks who have been part of the community for years. Folks with kids and grandkids that have attended schools in Kearney and played for various sporting teams to include the UNK Lopers. Angus Burgers and Shakes was born out of a dream shared by Travis Evans and Dale Klute. Travis is a standout Chef in the area and Dale and his family have been raising cattle here in Nebraska for decades. Travis has also been instrumental in building SOZO American Cuisine, another popular Kearney restaurant. When you think about local fare, beef is one of the first things that comes to mind, so it's easy to see how these two found common ground.
When it comes to the fare found on the menu here at Angus, we keep it "local" to the best of our ability. All of our beef comes from cattle that Dale and his family raise and market under the Nebraska Star Beef brand. We work with other local producers to source pork, chicken and as much of our produce as possible. We also work with a number of Nebraska based breweries and only keep the best micro-brews on tap. If you're into more common beers, we have them by the can and bottle…
But what about the Shakes?!?! Well, burgers are definitely the apple of our eye, but we have a pretty serious sweet tooth as well. And what better way to enjoy an epic burger than with an ice cold hand crafted milkshake. All of the flavors are "Angus Originals" and are served up with whipped cream on top. You'll have a hard time finding a better shake between Omaha and Denver.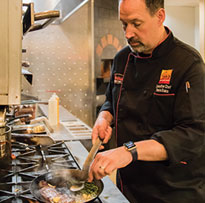 Travis Evans
Executive Chef / Managing Partner
"I saw someone in a Chef's jacket and thought that was pretty cool. I always loved food. So I talked to my advisor, switched my major, and signed up for culinary classes for the next quarter." After starting his culinary career in the 90's, by 2012 Chef Travis Evans was tired of working for others and wanted to create his own dining experience. Alongside his wife, Chef Travis had a desire to cook more progressive foods, foods that spoke to his soul, and foods that would change Kearney forever. And thus, with the help of his wife, Sozo American Cuisine was born (with Angus Burgers and Shakes following close behind). "I know it's called 'American Cuisine' but it's really a bit of everything we're interested in … I love all types of food, but I really love French food." French food is bursting with butters and creams – components that create a full richness in your meal – and something you won't be lacking at either Sozo American Cuisine or Angus Burgers and Shakes. Braised meats also hold a special spot in this Chef's heart. "It takes a lot of preparation and time to take a tough cut of meat and make it transform into a moist, soft, silky meat." Which is why the newly released Braised Beef Stack at Sozo, an entirely French dish inspired by his grandmother, speaks so personally to his heart. It begins with a fried mashed potato cake, topped with braised beef, a rich demi-glace (pronounced "demi-glaze"), crispy beef, a shallot salad, and fried hollandaise (one of the five mother sauces in French cuisine). You might be wondering how you fry a sauce, but leave that to the professionals, and come try it for yourself.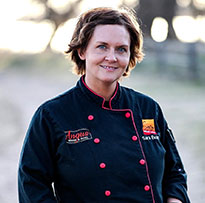 Sara Evans
Executive Chef / Pastry Chef / Managing Partner
Switching majors from Art Education to Food Service Management after her first year in college was her first step to years later opening Sozo American Cuisine alongside her husband. Sara Evans: you might see her taming the stovetop flame through the open kitchen concept during lunch, but mostly, she is the mastermind behind the scenes. Chef Sara started her culinary career back in 1993 at a small cafe in Lincoln, NE. After earning her Bachelor's Degree in culinary school she worked as a cook at The Athletic Club in Embassy Suites in Lincoln, NE where they encouraged her to expand her horizons by trying new recipes and techniques. After five years, she moved to Venue Restaurant & Lounge in Lincoln, Ne., an upscale American restaurant where she spent the next nine years. She attributes a handful of her knowledge in the kitchen to her time at The Athletic Club and the inspiration she gained from Food Network personalities like Emeril Lagasse and Alton Brown. While at heart she is a true Nebraskan "meat and potatoes" type of girl, she loves preparing for the events they host at Sozo American Cuisine featuring a wide cultural array of meals, such as the monthly wine dinners, the daring blind tasting (where all of the guests were served their meals blindfolded to accentuate the rest of the sensory experience), and the recently hosted Brazilian Nights. "The positive feedback makes it all worth it." If you haven't yet, opt for a soup instead of a salad with your meal – it's one of Chef Sara's favorite dishes to craft and trust me, it's "so-beyond-worth it."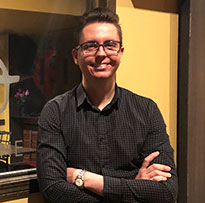 Liam Mendoza
Director of Operations
Originally from Spain, Liam Mendoza has been working in the restaurant industry since the age of 12 years old. He went to college for a degree in Hospitality, which he followed up with a Master's in Hotel Management and a Master's in Director of Operations. He is also a certified Wine Critic. He started managing his first restaurant at 17, slid into the hotel industry at the age of 19, and by 20 he was running a Michelin Star restaurant in Malaga, Spain – one of the youngest people in Europe to ever do so. After two years, he followed his friend and mentor to Mallorca (a Spanish island) and worked as an Outlet Manager, the captain of hospitality company staff.
Eventually, he and his mentor left to create a new chain of hotels for private investors where Liam worked as the Director of Operations and lead a team of close to 150 staff members. He found his way to Sozo by following his wife back to her hometown of Kearney, Nebraska. Since he moved here, he feels that his biggest accomplishment is how he has been able to adapt to the Midwest – the people, the culture, the food, and of course the weather.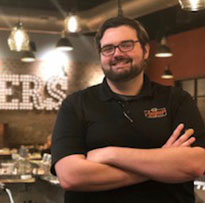 Ben Polk
General Manager
Ben Polk always had a good eye and taste for food. From as far back as he can remember, his dream was to be a Chef. He began working in the food industry in college, where he studied Communications. After college, he began working as a server at a local cafe and was quickly promoted to the back of the house where he worked as a Kitchen Assistant. He became fascinated with the different cooking techniques and loved having a creative outlet. A little shy of a year later, he was hired at Sozo American Cuisine as a Barista and a host. "The best part of the job was working for [Chefs] Travis and Sara. They're both fantastic compassionate bosses who care about their employees."
He then took the skills he gained as a barista and moved to a local coffee shop in town that he and his wife helped open and shared the title of Lead Barista. Within 6 months he also became the Lead Coffee Roaster. A year and a half later, he was offered a job at Angus as the General Manager. "The idea of being able to work for Travis again, and knowing Liam was around to guide me was why I chose to leave coffee and come back to the food industry."
All of the beef used comes from one source:
Nebraska Star Beef
Click the button below to fill out our contact
form or call us at one of our locations.
Kearney: (308) 455-6218
Omaha: (402) 401-6613