To Our Valued Guests and Community:
It is with great sadness that we are announcing the closure of Angus Burgers and Shakes at Tiburon Point. We are truly thankful for all of your support and patronage the past few years.
We are so happy to have been a part of the Gretna community. We have shared so many wonderful memories and met so many great people.
Our Kearney location will still be open so if you catch yourself traveling through, we would love to see you! Sincerely,
Liam Mendoza – General Manager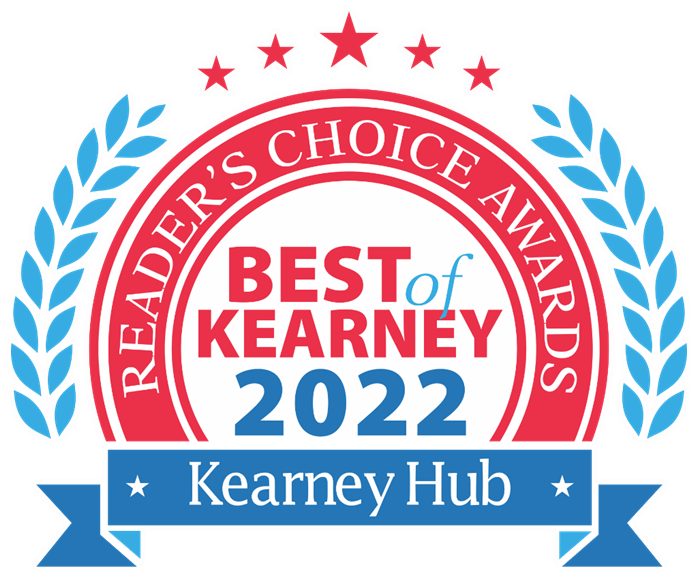 Voted
Best Hamburger

since 2016!
Experience The Best Angus Burgers
Angus Burgers & Shakes is a fun, contemporary, and upbeat establishment; with a menu that features the best things about childhood – plus beer, bacon jam, and truffle fries. Our menu also features the best local and regional products available. All of the beef used comes from one source, Nebraska Star Beef. At Angus, we strive for quality across the board, whether it's the service of the food, we take pride in exceeding the expectations of every guest we serve.
Angus Burgers & Shakes Restaurant opened in 2016
421 W. TALMADGE ST.
KEARNEY, NE 68845
308-455-6218
From handcrafted burgers to non-typical milkshakes, we have everything we need to provide our guests with a lasting memory that will certainly change their outlook on a classic burger and shake combo.
Angus Burgers & Shakes will ensure that every detail of your party, meeting, reunion, wedding or special event is handled with impeccable professionalism, quality and service.
Sara Lecrone
The best burgers!!!! We came into Kearney from Missouri. Since I am a foodie, I of course had to look up a great place for us to eat as a family. after looking at reviews and menus I decided on Angus Burgers & Shakes. We were NOT disappointed. The kids had the fried chicken chunks and the cheeseburger. The adults had the French onion, and the three little pigs. Sided with skinny fries, chili cheese waffle fries, and the sweet potato tots. We finished our visit there with the banana pudding, Cookies & Cream, and Toasted Marshmallow shakes. The service was amazing and so friendly. We will most definitely be back when we come back to Kearney.
Amanda M Johnson
Great food, service and atmosphere. My entire family loves this place!
Chris L. Callahan Barnes
We took my well traveled nephew and my sister there for dinner. They were both very impressed with the food, and said that was the best burgers they had ever had!
Andrew Bundy
Wow!!!!! Went here with my wife for the first time and this may be my favorite restaurant in town! Staff is friendly and knowledgeable food came out quick and was great! Also they are primarily serving local beef and drinks! What a great place and I will recommend this to anyone and will be back many times! Lastly get the banana pudding shake it's great just like the rest of the food! 10/10!!!!!!!!!!!
Jonelle Hogan
Very good food! If you leave hungry, it's your own fault. Staff was friendly and courteous. Would recommend this place to eat!
Rebecca Duran
I wish I could remember the waitress' name, but she was very nice. I had the impossible burger and it was very good. As a vegetarian, I appreciated that there was also a portobello mushroom as an option.
Melissa Finnell
Excellent quality from Food to Venue! This is a very happy place with lots of good tasting items to choose from. The fries and salad are very fresh, high quality on the burger and be sure to treat yourself to the delicious shakes! Very yummy worth the trip to the location!
June Zamora Shaw
We were 1st timers last night, everything is AMAZING! I love that they have their own ranch, grass fed cattle that they serve.Our burgers were DELICIOUS!
Abigail Frye
Burgers are tasty, I like that the beer menu regularly changes and offers new brews I haven't enjoyed before. Sweet potato tots are out of this world! good for a casual date night, lunch meet up, or small group outing.
Jason Hasselquist
Great food, great service, great atmosphere! I had the Hellfire Burger & it was fantastic! Awesome flavor with lots of heat! I highly recommend it to anyone who "Likes It Hot"! Next time you are in Kearney, do yourself a favor and stop by Angus Burgers!
Amy Brockman
The wait staff was great and the food was amazing. Since we raise our own beef I rarely order it when we go out to eat because I feel I can fix it just as well if not better in some cases at home, but their burgers are nothing short of amazing!! Their shakes were pretty awesome too!
Alayna Joyce Christensen
The food was absolutely phenomenal. We tried a lot of stuff, and every single thing we had was awesome. I highly recommend the Tempura Avocado, and the sweet potato tots. The Nebraska Farmers burger was delicious and the toasted marshmallow shake was probably the best shake I have ever had.Very excited about the possibility of there being a location opened in Omaha. We will definitely eat there again if we get the chance!