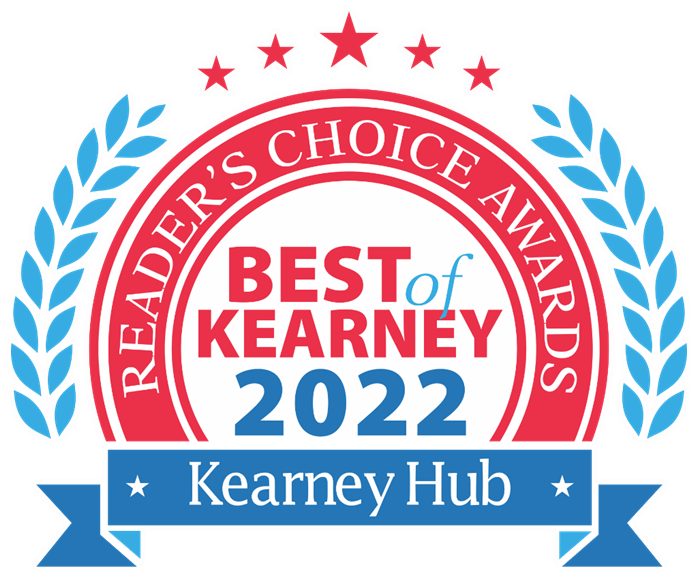 Voted
Best Hamburger

since 2016!
Experience The Best Angus Burgers
Angus Burgers & Shakes is a fun, contemporary, and upbeat establishment; with a menu that features the best things about childhood – plus beer, bacon jam, and truffle fries. Our menu also features the best local and regional products available. All of the beef used comes from one source, Nebraska Star Beef. At Angus, we strive for quality across the board, whether it's the service of the food, we take pride in exceeding the expectations of every guest we serve.
Angus Burgers & Shakes Restaurant opened in 2016
421 W. TALMADGE ST.
KEARNEY, NE 68845
308-455-6218
From handcrafted burgers to non-typical milkshakes, we have everything we need to provide our guests with a lasting memory that will certainly change their outlook on a classic burger and shake combo.
Angus Burgers & Shakes will ensure that every detail of your party, meeting, reunion, wedding or special event is handled with impeccable professionalism, quality and service.
Katie Sheen
Best Burger you'll ever eat! This is one of my favorite restaurants by far. The staff is so friendly and the burgers are cooked to perfection and made from local beef. Don't miss out on the amazing appetizers like Crab Rangoon fries or the Crispy Cauliflower. Pair your burger of choice (good luck choosing) with in house cut fries or even some sweet potato tots. Don't forget to ask your server about specials, you don't want to miss out on limited time items. Be sure to grab a shake too, you can even get them for on the go, strawberry is my go-to! Next time you're hungry, support local and come with an empty belly!
Jenny P.
We were on our way home and craving a goooood burger! Found this place and it didn't disappoint! It was a Sunday and arrived around 3:20pm which was perfect because they close at 4pm. Our server was one of the best! Very patient and answered all my daughter's questions!
The burgers are over $10 and do not come with a side but at least the sides aren't too pricey! We had the Jalapeño Popper and so so so good! Sweet with heat!
We did get all shakes…and the churro does get a churro! But on the shakes I would give a 3 star. For the price I thought they would be bigger and thicker! Mine was pretty liquidy when I received it.
But all and all…we were happy we found this place!
Anne Trouba
We are here because they offer gluten free buns. Usually this means cardboard buns but they were great and very close in taste to a regular bun. The burgers were out of this world. We ordered truffle fries and shakes. Both were great. We ate outside in a cozy and inviting nook. A win all the way around!
Sage E.
This place is so cute and immediately inviting when walking in! Jessica was the absolute sweetest person ever and took great care of us!! The food was amazing and i definitely recommend the lemonade!! I will definitely be back!!
Kyli R.
Seriously one of the best burgers I have had in a long time and I was super impressed with the kids meals!
Jennifer N.
Had the waffle fries with coleslaw and pork ends and OMG. I should have just ordered this. Fried pickles were ok. Also had the Nebraska Farmer Burger and it was delish. Got truffle fries with mine. So good. Definitely worth the drive!!
Joshua E.
A true delight in Kearney NE, I had the Farmer burger and a churro shake. So I'm driving from ND to TX this is my halfway, I hate waiting during my road trip and I don't sleep much on the road. This place doesn't open till 11,, I'm up at 6, I had to kill 5 hrs just to get a burger and shake. I'll do it every time, this place is legit. Do yourself a favor stop by on your way to the great republic, you won't be disappointed
Fernando P.
First time trying this place, good overall experience. The drinks were GOOD, the food was GREAT, the service was FAST & FRIENDLY. Would definitely visit again.
Ryan R.
Flavorful burgers that are anything but ordinary. service is very fast and friendly. The shakes are also pretty good. Hard to find anything not to like. Prices are about $25 a person for lunch.
Jen M.
We loved this stop on the long road through Nebraska! As someone who has to eat gluten free sometimes it's hard to find good options. This was a fantastic choice. The GF bun was so good. The burger perfectly cooked. My husband, who can be particular about burgers loved his. We ordered grilled chicken for our daughter. It was dry, but flavored well. We also replaced fried with sweet potato tots for her and they were so good. The chili on chili cheese fries had a nice kick. Would definitely stop here again. Highly recommend!
Lydia C.
I had a cheeseburger with provolone and all the toppings – it was amazing! My hubby had the Hell Fire burger – he loved it! Also, must try the fry sauce 😋
The atmosphere was relaxed and welcoming. Our server was very nice and attentive. Highly recommend this place!!
Autumn A.
HOLY COW CHALLENGE IS A MUST TRY. Our waitress, Katie, gave a very inspiring speech about what is included in the Holy Cow Challenge (4 sandwiches, 4 sides, and a giant milkshake) and our throws coach was the first to complete the challenge! On top of that Coach Hoke finished the meal in under 30 minutes when given 45 to complete the challenge. He dares anyone to try to beat the challenge and beat his time.
Overall great experience and great memories made. I also believe a wall of fame is needed to commemorate Coach Hoke finishing the challenge.